Lillette Granade - Attorney for Immigration, Criminal, and Traffic Cases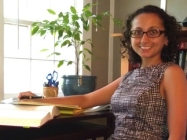 Lillette Granade grew up in North Carolina and fell in love with the NC coast while attending the University of North Carolina at Wilmington.
Lillette graduated from UNCW with a Bachelor of Science in Environmental Science. Following employment with the U.S. Army Corps of Engineers, Wilmington Field Office as a Regulatory Specialist, she earned a Masters of Study in Environmental Law, which she received magna cum laude.
Lillette Granade received her Juris Doctorate, magna cum laude, from Vermont Law School. She is a member of the American Immigration Lawyers Association and the AILA Carolinas Chapter.
While attending Vermont Law School, Lillette was Captain of the Philip C. Jessup International Law Moot Court Team. Lillette worked at the South Royalton Legal Clinic, representing individuals in family law and custody matters. She also assisted the Clinic's immigration clients who were seeking derivative citizenship, humanitarian parol, and permanent residency. Through the Clinic's partnership with the Vermont Refugee Resettlement Program she was able to assist refugees from Sudan and Burma petition USCIS for immigration benefits.
Lillette has extensive experience in strategies for obtaining U Nonimmigrant Status Visas for immigrant victims of crime. This is a newer area of immigration law, which retroactively provides options to immigrants who were previously unable to legalize. Lillette also focuses her immigration practice on family-based immigration cases. She assists immigrants with obtaining green cards, naturalization, and representation in removal proceedings.
Due to the immigration-specific consequences of criminal convictions, Lillette expanded her practice area to include Criminal Defense. She represents clients in New Hanover, Brunswick, and Pender counties in all areas of Criminal Defense ranging from traffic citations to felony charges. Lillette also represents non-custodial parents, who face incarceration for non-compliance with child support orders.